Hooray! Let's Play! B
• promotes multi-sensory learning through a variety of motivating games, stories, action stories and songs; • is fun and easy to teach allowing children to learn in a natural and memorable way; • offers a unique combination of materials - books, DVDs, Audio CDs, DVD-ROMS, story cards, flashcards and a hand puppet to suit every classroom need; • introduces 4 delightful characters – Peter the Panda, Rosie the Rabbit, Connie the Crocodile and Tom the Turtle – who quickly befriend the children and create a positive, warm learning environment.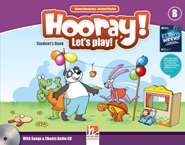 AÇIKLAMA
Hooray! Let's play! is the brand new 3-level course for 3 to 5-year-olds by world-renowned author team Herbert Puchta and Günter Gerngross. This exciting and innovative course helps you maximise your English lessons with very young learners and offers your pupils lots of fun and highly-stimulating activities. Hooray! Let's play! has a unique multisensory approach that develops young children's core thinking skills and offers motivating value-based stories to promote essential social skills. All components available in British and American English.
YAYINCI HAKKINDA
The mission of Helbling Languages is to promote global understanding and communication between speakers of different languages by providing teachers and students with innovative teaching materials of the highest possible quality. Helbling Languages: •Actively uses the latest findings in cognitive psychology, education and brain research to guarantee materials that fully cater for learners' different interests, motivation, learning styles and cognitive capabilities; •Supports teachers by helping them meet the challenges of their profession, developing their core professional and personal skills as they systematically improve their students' foreign language abilities; •Publishes innovative course books and multi-media materials that make learning a foreign language an interesting and enriching experience; •Publishes practical resource books to make all the latest research in education and language science readily available for teachers and teaching professionals. Helbling Languages offers an exciting platform for teachers, applied linguists, materials writers and researchers to meet and anticipate the varying needs of learners throughout the world. We are committed to delivering effective real-life language-learning solutions which integrate cutting-edge technology and applied linguistics with highest quality content for a fresh new holistic approach. Helbling Languages titles have won top awards and prizes from the most respected institutions in the ELT world.